Sprint Training
Robyn offers two services. Firstly as an accredited ASSA (Academy of Sport Speed and Agility) Coach where the emphasis is on speed and agility that is applied to any sport such as soccer, netball, etc. Please reference to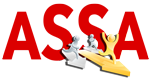 www.academyofsportspeed.com
Learning & Teaching By Competing-
Bronze Medalist at World Championship Level: (Bronze W55 300m hurdle Lyon 2015)
Secondly training junior through to master age athletes in sprints with major focus on 60m to 200m distances who wish to compete in sprinting events such as School through to National level or Masters Athletics. Technical drills, a good core and body strengthening program, periodised programming for on and off season, preparation for races and block starts are all aspects of sprint training which is generally done on the track at either SOPAC, Homebush or E S Marks, Randwick. Grass tracks are also used such as Barton Park, Parramatta, Ashfield Park. Spikes required at all sessions. Please inquire to discuss your individual situation.
Clean Sweep of W55 Sprint Events by Robyn Suttor at Pan Pacific Masters Games
Gold Coast Athletics Stadium, November 2014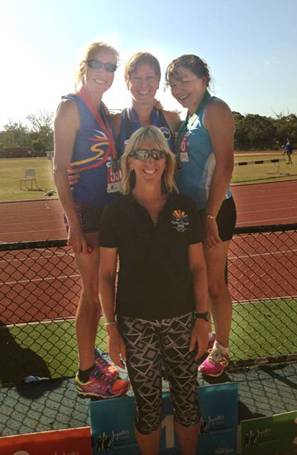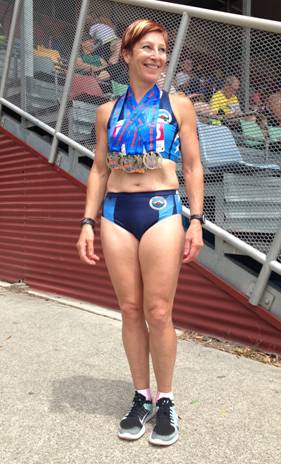 | | |
| --- | --- |
| With Glyniss Nunn-Cearns who Presented | Robyn Stands Proudly |
| Robyn with her 80m Hurdles Gold | with her 4 Gold Medals |
| | 80m Hurdles-60m, 100m & 200m Sprints |
Ranell Hobson, (left), Head Coach of ASSA, with Robyn, (right), at the Indoor World Masters Athletics Championships, Budapest, March 2014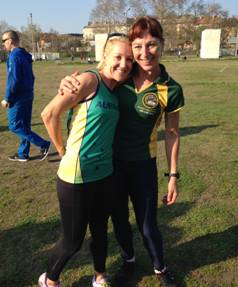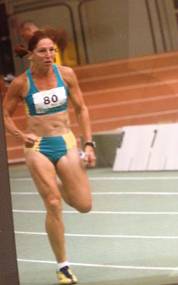 Robyn is a Master Athlete with a World Ranking, NSW State & Australian Records and has competed in several International events and is currently ranked in the world 4th in 400m , 5th in 200m, 5th in 60m Hurdles and 6th in 60m in the Women's 55-59 age group. From this competition Robyn established 4 Australian Records in the W55-59 age group;
1. 400m, 4th , 69.99
2. 200m , 5th 30.76
3. 60mHurdles, 5th , 10.53
4. 60m , 6th , 9.13
Next goal by Robyn – improve my 6 pack by August 2015 when I fight it out in the W 55-59, at the Outdoor Worlds Masters Athletics Championships at Lyon, France.