Outdoor Classes
Our sessions will usually comprise some of the following :-
• cardio including walking, jogging, skipping rope, hills, steps, boxing,…
• resistance including dumbbells, kettle bells, therabands, ankle weights, bar bell with weights, medicine balls, own body weight,…..
• core including chi balls, pilates rings, exercise ball,…………
• stretching including roller, towel/rope, own body, ………..
The aim is to offer a general fitness session working through all the main muscle groups and offering a selection of exercises that typify what one might normally wish to have in a gym, and create a reasonable standard of weights / effort to challenge each individual who participates.
Familiar exercises such as chest press, rear row, bridge lift, planks, shoulder press, tricep extension, bicep curls, squats, hamstring curls, leg extension, abduction raises, abdominal curls will be among the usual collection of exercises. Each session will enjoy its own creative spin so that the challenges are created and each individual has the opportunity to choose from the various weights provided so that an appropriate challenge occurs for each exercise. The overall aim being to ensure sufficient variety and individual flexibility so that everyone leaves happily exercised and knowing that the fitness challenges provided will contribute to their health, fitness and well being goals.
All ages are welcome from the young "mum" through to the aging "granny or granddad". My attitude and approach is that everyone is as equally as important as the next and everyone will enjoy the variety of people who turn up and feel safe, happy, challenged and cared for. The overall positive attitude and energy allows everyone to enjoy the group and settle into the hour and satisfy their own needs- with a little bit of help from Robyn's expertise guidance of course!
Requests for other outdoor Fitness group sessions can be made, and it will be purely about Robyn's availability as to where and when other sessions may be set up.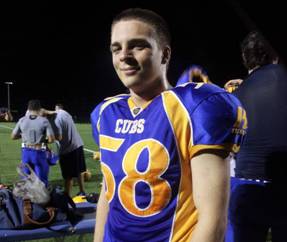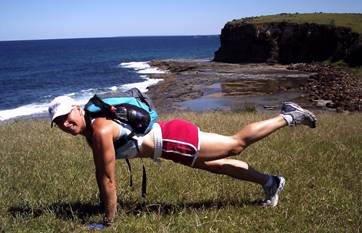 Qualifications-
Diploma of Fitness SRF50204– Meadowbank TAFE - 2006
Certificate 4 SRF40204- Personal Trainer- Meadowbank TAFE - 2006
Certificate 3 SRF30204- Gym Instructor- Meadowbank TAFE – 2006
Group Exercise Instructor (Fitness)– Fitness Institute Australia -104351 (SRF06) –No 90063, 1st June 2007
Plan and Deliver exercise for Older Adults – SRFOLD001B -– Australian Institute of Fitness NSW – 9/5/2007
Active Over 50's – Certificate of Accreditation – SSWAHS- 2007
Heartmoves Exercise for Older Adults – Heart Foundation – 2007
Boot Camp and Outdoor for Group Fitness - 2013
Robyn has several years experience conducting several classes each week including Pilates Floor Mat, Gym Total Body Circuit Group Exercise, Gym Abdominal Pilates and Cuff Circuit Combo, Nordic Pole Walking, Tai Chi for Diabetes and Tai Chi for Arthritis, Heartmoves for Seniors Group Exercise, Running Training, High Energy Outdoors Combo, Boxercise Group, Home Programs for individuals and families, Exercise Change Programs for pre and post Lap- Band clients, Commando, Stretching, Early Morning Group Exercise and Crankit Straps.